The Best Realtime Stock Prices API
TAAPI.IO is the #1 REST API for fetching Realtime Stock Prices and Technical Analysis Indicators.
200+ Technical Analysis Indicators
Realtime US stocks data
Historical US stocks data
Technical analysis calculated in real-time
All popular timeframes
Bulk Queries (multiple timeframes / indicators in one API request)
Realtime Stock Prices + Technical Indicators
Lightning fast responses and unmatched accuracy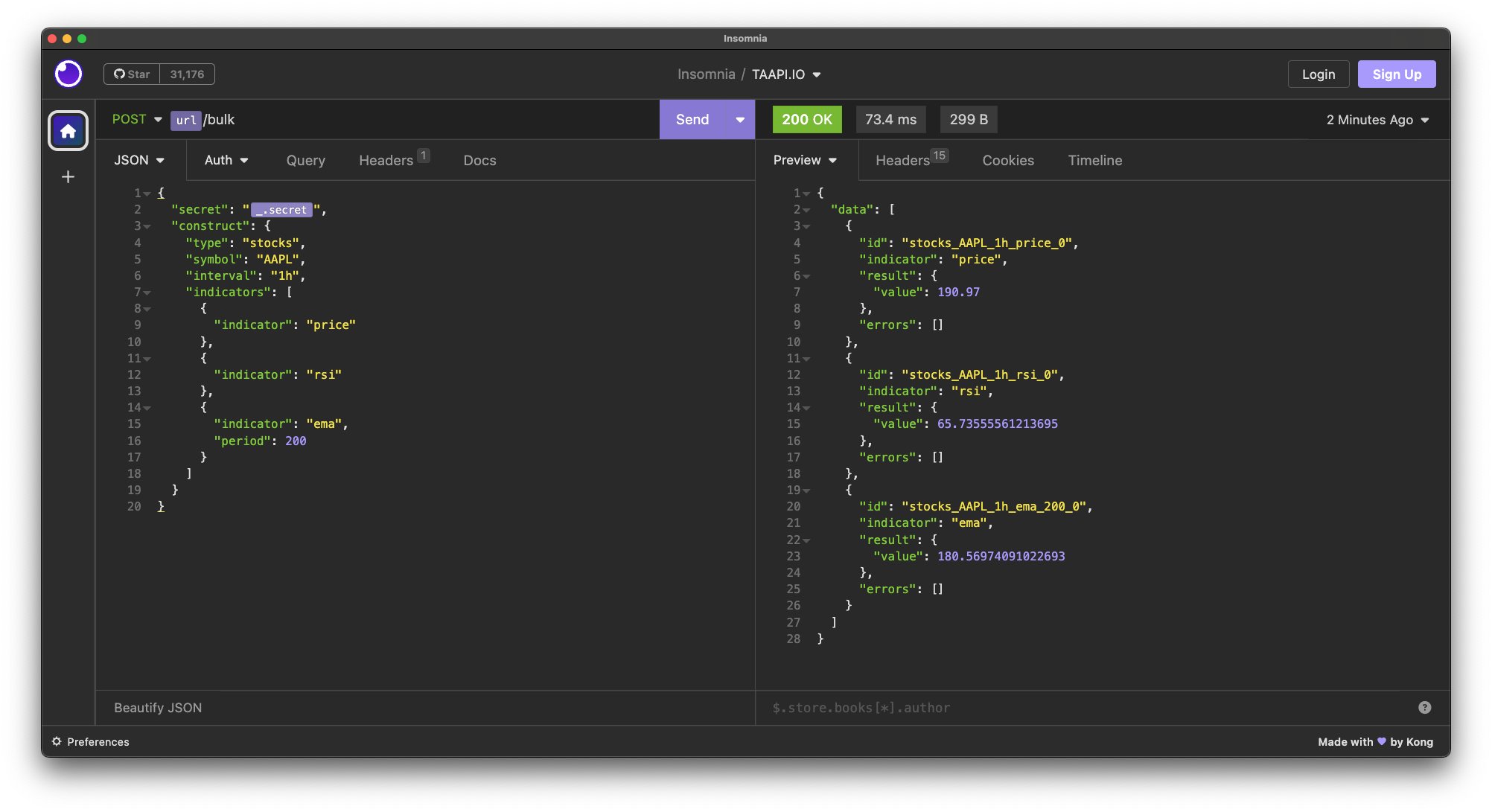 TAAPI.IO simplifies the process of obtaining real-time stock prices, such as AAPL, along with your preferred technical indicators like RSI or EMA. Customize your technical indicators by adjusting optional parameters; for example, you can specify EMA(200).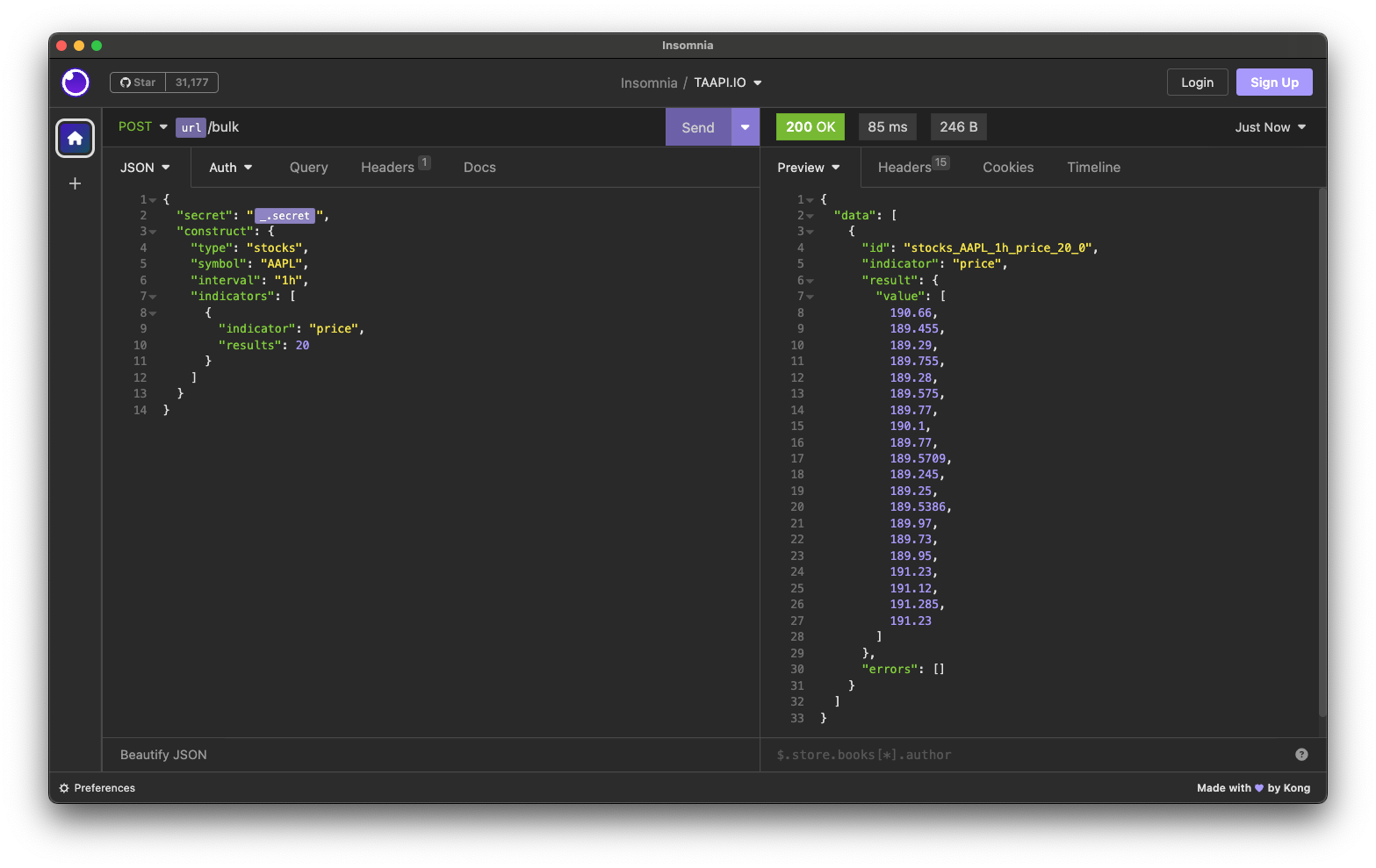 Realtime and Historical Prices
Get both realtime and historical prices with just one API query. Years of daily historical data available.
Get started for Free
You'll need our Pro or Expert plan to access US stocks.
Test drive TAAPI.IO risk-free with our 7-day free trial on all paid plans! We're confident you'll be hooked for the long haul!
Sale!

Pro

From: €14.99 / month with a 7-day free trialMost popular

All indicators
30 API requests / 15 seconds
US Stocks – real-time and historical
Crypto data real-time and historical
3 symbols per API request
Priority support

7-day Free Trial

Select options

Sale!

Expert

From: €24.99 / month with a 7-day free trial

All indicators
75 API requests / 15 seconds
US Stocks – real-time and historical
Crypto data real-time and historical
10 symbols per API request
Priority support

7-day Free Trial

Select options
Testimonials
We encourage our users to publicly review their experience with TAAPI.IO on Trustpilot.
Read some of their most recent reviews.
"TAAPI provides not only a very powerful api, competitive prices but also a high level of support and always friendly, I highly recommend!"
⎯ Eric
"Thanks for your API. Amazing work."
⎯ Nuno Ramos
"I've been using TAAPI.IO for more than 6 months now and I haven't had a single problem with it. The team is very responsive and they deliver quality service both in the product and in customer related affairs. I would definitely recommend TAAPI.IO to another person. Keep up the good work!"
⎯ pjsegcab
Saved lots of time in coding the Indicators I thought I wanted, but they have so many that I learned of some more and found some better ones. Great support when I had some questions.
⎯ Andy
This website has amazing feedback and support. It also has a well documented and well structured API. Although it may not have libraries for many python or major languages. They have structured their JSON format in such a simple and straightforward way.
⎯ Mansoor Al-Surmi
Great product and service!
⎯ LLUIS BADAL CUBINSA
So far, so good. It has a lot of indicators to use. Monthly price is very competitive. I dont have negative points to say till this moment.
⎯ Mario
El mejor servicio para trabajar con indicadores. Buen soporte 👍 espero que agreguen mas exchange de otros mercados. Exitos.
⎯ Maximo Gomez
Good quality service and customer support. I would recommend TAAPI to anyone else interested in the field.
⎯ Pedro Juan Segura Cabrera
Nice service, friendly support, recommended
⎯ Smolleyes Inv
Very happy to came across taapi.io, I was looking for near real-time crypto indicators that were reliable but most of all accurately match the indicators from exchanges and trading view. Taapi seems to have it all, very fast API, stable and fast endpoints and a team that responds on the spot. If you're looking for a reliable and affordable API with stock indicators I would definitely recommend checking out their service.
⎯ Rob
Taapi provides a very valuable service with reasonable prices besides an excellent customer service. They always meet their customer's needs and are very helpful. I'd like to thank them so much.
⎯ bsahin
Taapi is a good service for Crypto robot developers and Algo traders. One great thing is the ability to send data from other sources and it will calculate the TA's for you. Also, API integration is very easy.
⎯ Sina
Awesome team quick answer and API 😉
⎯ Cyril
Very caring and solution-oriented.
⎯ Mazlum Özhan
Truly global
TAAPI.IO has users all around the world and we are making sure the speed and reliability is perfect everywhere.